Chinese and French artists perform online for
Poetic Fragrance from China: Traditional Chinese Music Concert on June 21. [Photo provided to China Daily]
To convey the profound friendship between the people of China and France, and as the European Music Festival unfolds, China Cultural Center in Paris joined hands with China National Opera & Dance Drama Theater, along with Chinese artists in France and students at the center and successfully hosted Poetic Fragrance from China: Traditional Chinese Music Concert last night, an online concert of traditional Chinese music.
Watch it again: Traditional Chinese music concert bridges China and France
Artists from both home and abroad stepped onto the same stage and performed online for audiences of both China and France, sending out prayers for a winning battle against COVID-19 and best wishes for the safety of the people.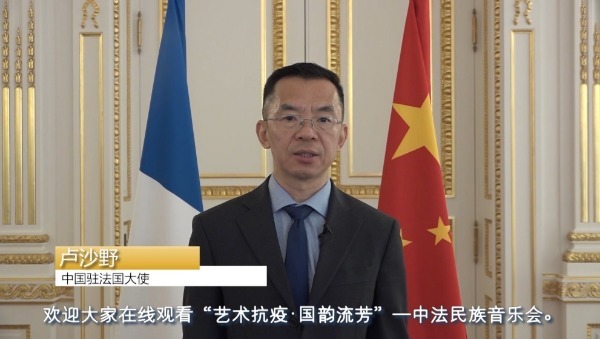 Chinese Ambassador to France Lu Shaye [Photo provided to China Daily]
As put by Chinese Ambassador to France Lu Shaye in his speech, Chinese folk musical instruments are the crystallization of 5,000 years of Chinese civilization, and a gem in world culture.
Lu praised the long-held cultural exchanges between China and France. Ever since the onset of COVID-19, the two have shared weal and woe, worked closely with one another and jointly pushed forward international cooperation in the fight against COVID-19. As the phrase "Unis nous vaincrons" goes, China and France have penned a new chpater in friendship.
Lu also stressed that even though viruses know no borders, neither does love. This unprecedented pandemic once again proves humans share a common future. Only if countries around the world work together can we build a better and more beautiful world.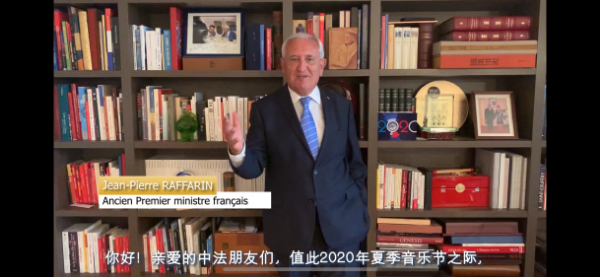 Former French prime minister Jean-Pierre Raffarin [Photo provided to China Daily]
Former French prime minister Jean-Pierre Raffarin opened his speech with "xiexie", the Chinese term for "thank you". He stressed that culture lies at the core of the Sino-French relationship, as it is an indispensible part in both countries for mutual understanding and respect to deepen communications and exchange at an emotional level.
"We all know that this global challenge can only be conquered through cooperation. Culture plays a vital role in the promotion of the cooperative spirit in global development. Music is a celebration, and culture is friendship," he added.
During the hour-long concert, many revered folk songs of China were performed, including some that was listed as a masterpiece of the oral and intangible cultural heritage of humanity, as well as a folk rendition of classic French songs La Vie en Rose and Les Champs-Elysees.
She Mingyuan, director of China Cultural Center in Paris, expressed his respect for the long history of great civilizations of China and France. Though the two may differ in culture, the two have always sought similarities among differences and carried through mutual understanding and respect.
"Culture is borderless. The center will continue to play its unique role in stabilizing the Sino-French relationship through cultural exchange and gathering concensus in an effort to established a shared future of humankind," She added.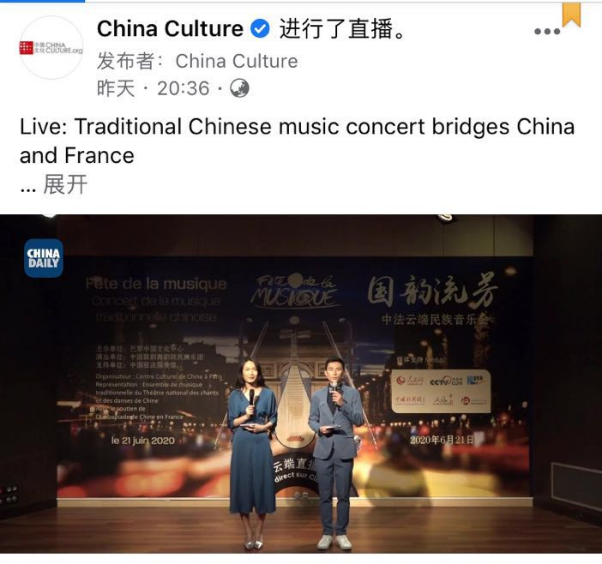 The online concert was broadcast live on many media platforms. [Photo/Facebook account of China Culture]
The online concert was broadcast live globally through media in Chinese, French and English on online platforms including People's Daily, CCTV News, Xinhua, Chinanews, China Daily website, China Culture & Tourism app and Cmedia TV, as well as social media platforms including YouTube, Twitter and Facebook.
When the central Chinese city of Wuhan reported the COVID-19 outbreaks, renowned cultural figures in France showed their support to China's fight against the pandemic, the Chinese embassy in France said in a statement.
More than 300 French artists and cultural workers had jointly issued a public letter, 40 theater performing artists lent their voice to the collaborative song Together, and players of the Paris Saint-Germain Football Club wore jerseys with "Be Strong, China" printed on them.
When France reported rising cases of COVID-19, the Chinese side also provided assistance in delivering medical supplies to France, it said.